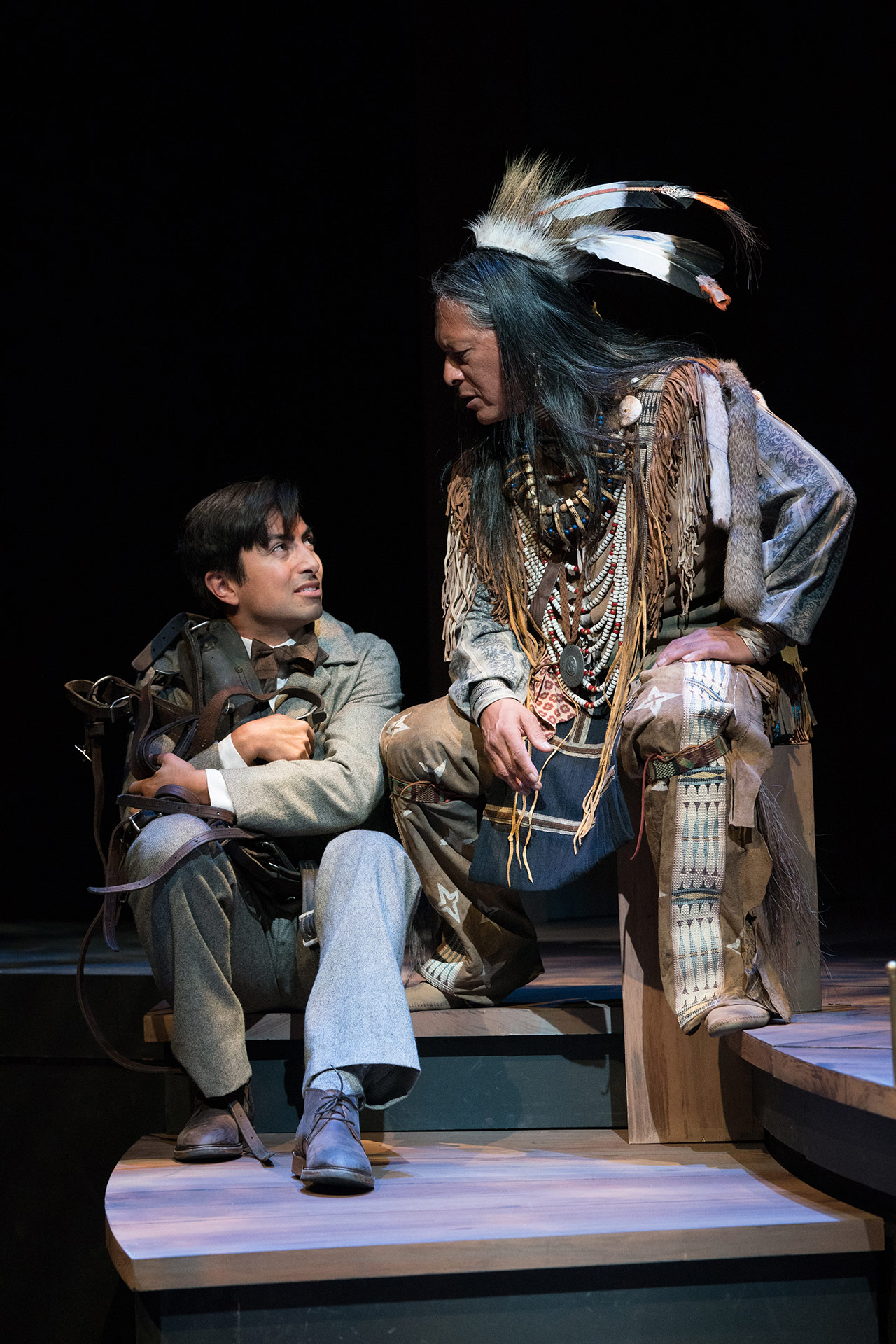 Oregon Shakespeare Festival photo by Jenny Graham
One of the great things about the Oregon Shakespeare Festival (and there are a lot of great things about it) is that they have a lot of resources. With their huge audience and wealthy patrons, they are able to not only produce 11 high-quality shows every year, but also develop a fair amount of new work as well. Some of it is commissioned, like their "American Revolutions" series of plays. And some is just that they are able to work with a lot of artists, provide some guidance, and maybe eventually produce one of their plays.
That's pretty much the story of
Off the Rails
, which started as an offshoot of some work on Indian boarding schools by a group called "Native Voices." This inspired Randy Reinholz (a leader of that group) to try setting a version of Shakespeare's
Measure for Measure
in such a boarding school. Based on some feedback from OSF Artistic Director Bill Rauch (who directs this production), Reinholz decided to "go for it" and make the play his own. Although it maintains some of the structure, dialogue, and language of the Shakespeare play, it has morphed into a truly original work with music, heart, and culture that is very much American and Native American.
The Play
The plot outline will seem familiar to any who know
Measure for Measure
. Our two main setting are a saloon in Genoa, Nebraska, and a nearby Indian boarding school in the late 1880s. The staff at the saloon is getting ready to audition for Buffalo Bill's Wild West show. Meanwhile, the mayor of the town (David Kelly) has gone off "hunting" (actually negotiating for the railroad to come through town), leaving Angelo (Barret O'Brien), the head of the boarding school in charge in his absence. The school master is extremely strict and pious, so when he learns that one of the students, Momaday (Shaun Taylor-Corbett), has gotten his local Irish orphan girlfriend Caitlin (Truett Felt) pregnant, he imprisons Momaday and orders that he be hanged.
So they send for Momaday's sister, Isabel (Lily Gladstone), to help solve the problem. Angelo agrees to free Momaday if Isabel will sleep with him. She refuses, but the gang at the saloon comes up with a clever, Shakespearean plot to substitute one of the dancers from the saloon, Mariana (Nancy Rodriguez), in the dark for Isabel. Because of course, Mariana was betrothed to Angelo before he abandoned her, etc. You can see where this is headed.
Add in subplots with the black Sheriff (Steven Sapp, and yes, this is a conscious nod to Mel Brooks and "Blazing Saddles") and the "close friendship" of the black cowboy (Cedric Lamar) and Alexie, the chief's son (Roman Zaragoza), and you've got plenty to think about.
The writing is really quite good, and manages to blend the bits of Shakespearean text quite seamlessly into the more modern setting. It works pleasantly well.
The Production
This is a world premiere, although it was presented in somewhat different form by Native Voices in 2014-2015. It definitely has a freshness to it, but seems much more polished than some of the new shows OSF has presented in recent years. That probably reflects the maturity of the work, at least in part. Although this is its first full production in this form it has clearly been in the works for a long time and has received much work and attention. It shows.
The production is also quite attractive: the costumes are bright and colorful, the music cheery, and the whole production remarkably upbeat, considering that one of the main characters is counting down his final hours under a death sentence. There is good humor, but it balances the great evil that we discern both in the cruelty of the boarding school itself and the hypocrisy of Angelo, who we learn has been lining his own pockets with funds from the school while literally starving the students. It might feel a little heavy-handed if it weren't all so plausible.
And I haven't even mentioned the comic relief supplied by the heavy-drinking bartender (Stephen Michael Spencer) or some of the other bits of subplot. It's quite complex for something so new, but it works. I should also mention the Grandfather (Brent Florendo), who visits Momaday and Isabel. The script indicates that this role should be cast with a local native American, providing some local flavor to the generalized production. So although the story is set in Pawnee land in Nebraska, Florendo brings a bit of Northwest native culture to the production. All told, I believe there were sever actors in the cast who are native American, including several from Native Voices.
Summing Up
Off the Rails
was a worthy inclusion in the season. It picked up the second half of the season (we actually saw the final preview before official opening) where
Mojada
had the first half. Both are modern adaptations of classic, well-known stories that do a good job of breathing contemporary significance into an age-old story. Both also bring both humorous and tragic elements that elucidate the modern cultural conflicts that echo situations from history.
And probably most importantly, both shows provide some fresh, high-quality new material to the festival, which serves to remind festival goers that we can both enjoy and revere the classic material while also using the old as springboards to new and timely stories that can also include voices not traditionally associated with the American stage. It's really great that OSF is both willing and able to provide a share of the stage to some less-heard voices and their stories.
Off the Rails
runs through the end of October, so it's a great excuse to take a trip up to Ashland this fall. Although the outdoor stage closes in mid-October, the indoor theaters run all the way to the end of that month, so there is plenty to see. This one is well worth the time.