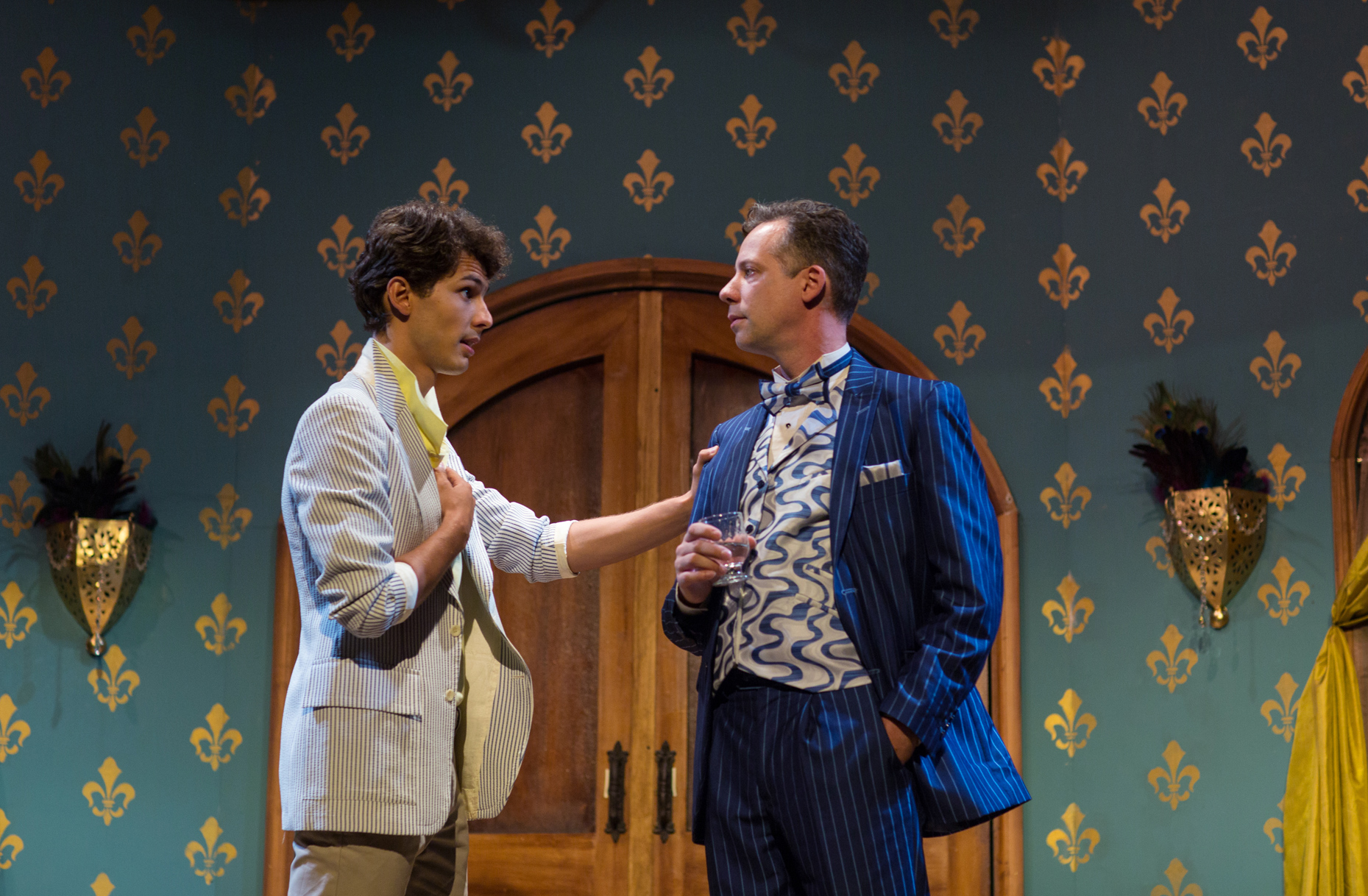 SF Playhouse photo by Jessica Palopoli
Here's a nice change of pace: we saw this show rather early in its run, so you have plenty of time to go see it!
The last show of the SF Playhouse season was the fabulous musical,
La Cage Aux Folles
, which I don't think I had ever seen on stage before. It's odd, because I definitely know some of the songs, and of course I'm old enough to remember when the subject matter was kind of titillating, if not downright scandalous. Now, I have to say that a musical about gay parents and drag queens is pretty mainstream, especially in San Francisco.
The Play
Georges (Ryan Drummond) and Albin (John Treacy Egan) are an old married couple in St. Tropez with a son, Jean-Michel (Nikita Burshteyn), who wants to marry Anne (Samantha Rose). Pretty typical stuff, but for the fact that George is the MC at the nightclub downstairs from their house (the eponymous "La Cage aux Folles"), where Albin is the star performer "ZaZa" in a drag show. And it's time for the families of the young lovers to meet, and Anne's father, Edouard Dindon (Christopher Reber), is one of the leading "traditional family values" politicians in the country. He's literally been campaigning to shut down clubs such as the one downstairs.
So now Jean-Michel must navigate the territory of having his future in-laws visit for a day without offending them and causing them to call off the wedding. What ensues is a pretty straightforward family drama, about matters like what really makes a family: biology or behavior, and just how far a parent will go to accommodate a child.
Throw in some big production numbers populated by drag queens, ballads by ZaZa, and some costume hi-jinks, and you've got
La Cage
.
The Production
I will say up front that I thought the production was good. The acting is quite good, and the singing is excellent (particularly Egan as Albin/ZaZa). I liked Abra Berman's costume designs quite well (particularly Georges' vest, pictured above). The dancing is pretty good, considering they are rather constrained by the set design--there isn't a lot of space, so they take advantage of some aisles in the audience, which has mixed results. I kind of expected a bit more polish in the drag show, since there is no shortage of strong drag performers in the city. But ultimately I decided they were OK, and it actually wasn't that important to the show.
They've added a little runway extension, partway up the center aisle (which is tricky, because the aisle isn't straight to start with). It's an appropriate addition for the club scenes, though people near the front have to turn around to see, which is difficult. This is definitely a show to see from farther back. That would also help with one other issue: The main set that represents the interior of Georges and Albin's home is a couple of feet above the stage (in part so they can rotate the stage and have the front steps right outside the door, which is nice). But we can see under the floor, where they have tried to put a few stage lights as decoration, but really, it's just a distracting, empty space, and again it really affects people in the front rows.
So in that sense, Jacquelyn Scott's set design really isn't up to the standards I expect from SF Playhouse. And probably the most obvious solution to the distracting void under the floor would be to play up the flamboyant decorations of the interior, which really seemed quite tame. This was not the time for minimal set decoration! Way too restrained, particularly when we have the vivid personalities of Albin and the butler/maid, Jacob (Brian Yates Sharber). They would not live in a house as sedate as the one here. The characters even talk about how over-the-top the place is, though visually it doesn't match up.
But ultimately, that doesn't detract from the fine performances. I have to give kudos particularly to Egan, who manages to handle brilliantly the awkwardness of an effeminate man trying to
not
look feminine. Throughout the show, really, both as ZaZa and as various renditions of Albin, it's terribly tempting for that character to just take flight and start chewing the scenery. But showing consistent restraint here, Egan manages to make Albin a relatable character instead of a caricature, which is really the point. SF Playhouse insists their shows are all about us developing our empathy, and by making Albin so real, it's possible for even this old, straight guy to find a lot of common ground. Kudos to Egan and to director Bill English for making that work.
One other aspect of the staging I have to mention, because it was a nice touch: Every time the stage rotates, you get a little peek into a small alcove between the two sets, and there is always some kind of little vignette for you there, so look for it.
Bottom Line
I was thinking at the intermission that the show hadn't held up in the nearly 35 years since it first appeared, that the things that made it so novel in the 1980s just weren't very timely anymore, at least in San Francisco. But the second act turned me around completely. The very human, universal story about parents and their children (and pious hypocrites, of course!) warmed my heart in ways that a musical rarely does.
So I'm willing to overlook some of the other little shortcomings and focus on the strong acting and messaging. This is a much better show than I was expecting, and it still has a month to go in its run (through September 16). So go and have a good time!