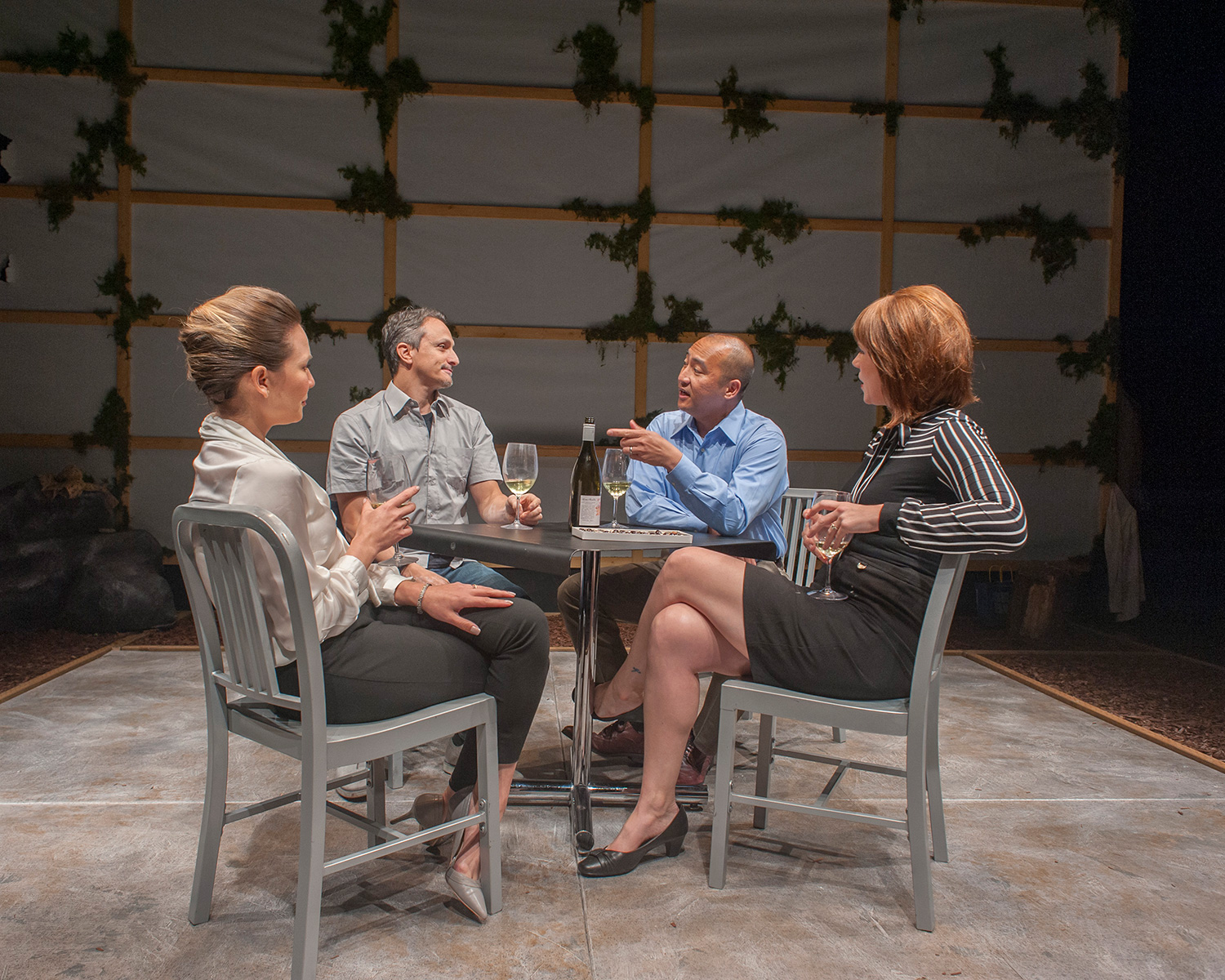 SF Playhouse photo by Ken Levin
Hard to follow a performance such as
Grandeur
, but there we were the very next night, trying out several new things: the tiny Reuff Theater atop ACT's Strand Theater, SF Playhouse's "Sandbox Series," and a brand new, world premiere play by Christopher Chen, whose
Caught
we enjoyed last fall at Shotgun. Chen does not write simple plays, so we expected a lot.
The Reuff provides an intimate space for a play. It's really just a black box, which I gather can have seats added in various ways. For this production it had three rows of chairs set up on short risers around three sides, with the fourth the lighted backdrop you see in the photo above. It worked well for this play. In fact, the play would work in the round, too.
The Play
Two married, mixed-race couples meet up for drinks, and everybody has some kind of connection to at least one member of the other couple. Ben and Lindsey dated briefly in college a decade ago. Ben is about to start a new job at Daniel's startup company. Daniel and Samantha are both first-generation Chinese American. Some kind of offhand comments in the chit-chat that might have been a little flirtatious start a series of reactions and overreactions that cascade through the rest of the play.
As with
Caught
, I don't want to say too much about the plot because the revelation is all, and misunderstanding and reaction out of proportion is key to the action. Chen plays once again with both the tensions of cultural assimilation and racism and the difficulties of couples in relationships. The lines of communication go every which way in the course of the play, and the manipulations are terrific to follow.
I found it particularly fun the way Chen plays with the notions that run through everyone's heads in a conversation: "Did he really mean that? No, of course not!" And we just move on. But Chen lets his characters jump right in with their subconscious reactions, verbalizing trivial hurts and upsets that should just slide right off, and then lets the rest of the group react accordingly. It's really very clever, and fun to consider how much we really stifle in the course of everyday talk.
The Production
The whole play happens inside a paved square. Sometimes we have a table and chairs for our couples to have their drinks, but it can also be a cafe, a restaurant, an office, and so on. And the characters who are not in the scene are just off, on a little path, so you get to watch characters thinking about those who aren't in the scene while they look right at them. It's really quite a nice staging there: kudos to director Bill English and scenic designer Zoe Rosenfeld for pulling that off so well. In fact, it works so well that late in the play when first one, then another of the characters leaves the room, it's quite jarring (and not effective to my thinking). The continuous interactions of the characters, regardless of whether they are actually present in the scene, is a big part of what makes the play work.
The four actors are all very good, though I frankly found it a little hard to picture them as being in their early 30s. They seemed a bit too mature in their dress and mannerisms. But the dialogue flows smoothly and precisely for the most part, which is important given the precision of Chen's writing.
Bottom Line
It's a good new play, and obviously still evolving. We thought it was about 90 percent of the way to being terrific, mostly held back by the ending. Endings are always the hardest part, seemingly. Although I have to say we came up with what seemed like a more satisfying ending over dinner afterward.
All that said, I thought the piece was well written and shows a lot of promise. I will be interested to see where it goes from here. The current run goes through July 2nd, and it's definitely worth seeing.