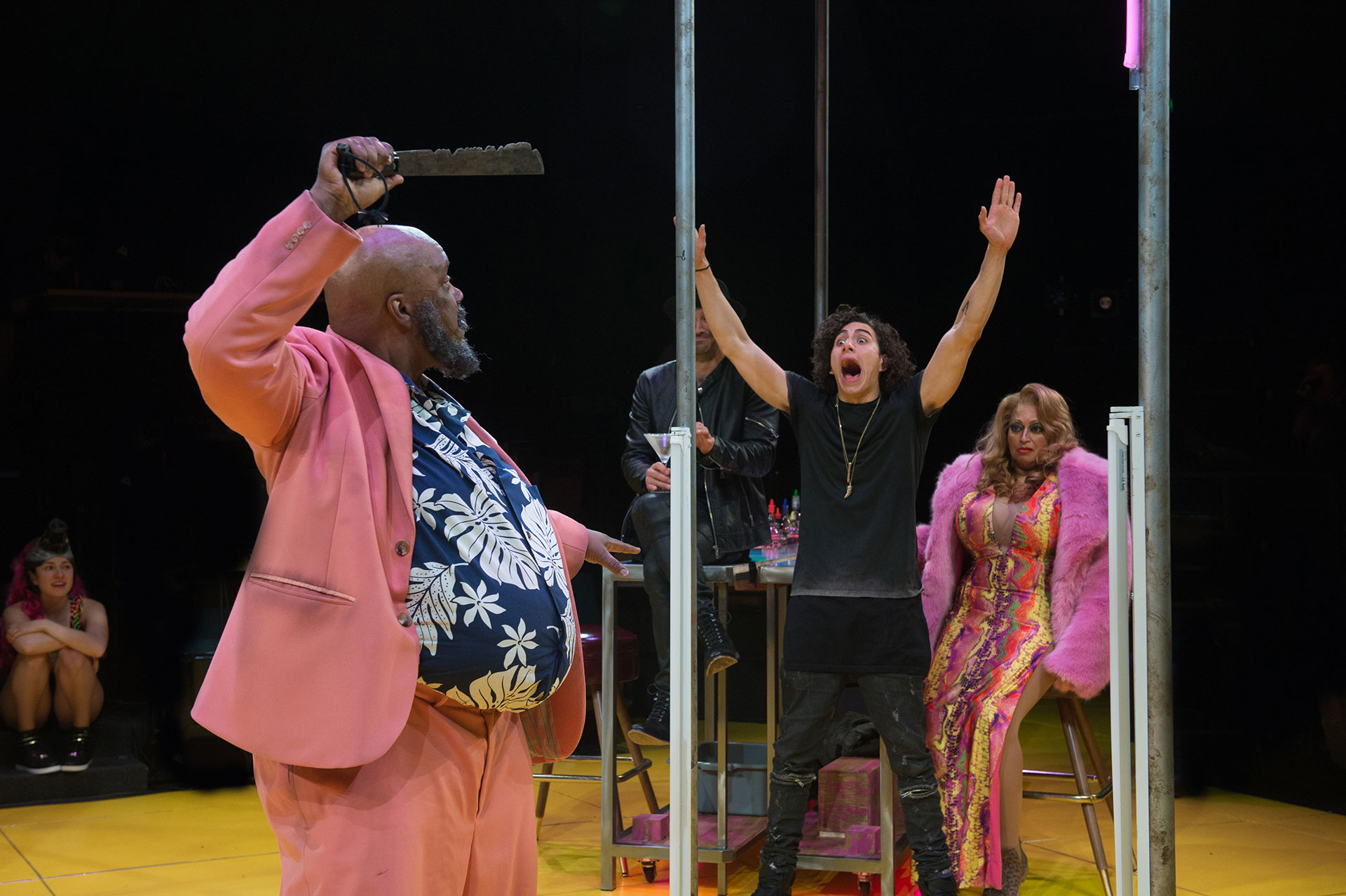 Oregon Shakespeare Festival photo by Jenny Graham
OK, last shows of the year at Ashland. This year we managed to see all 11 productions, and the last two were parts 1 and 2 of
Henry IV
. Although the two parts have different directors, they have largely the same cast, with many holding over from last season's
Richard II
, which is the "prequel" in the history series. And I believe many will carry over to next season's production of
Henry V
. And let me just say this is a good thing. The plays are much easier to follow when you have some character continuity.
I'm going to go against my usual protocol and cover both parts of
Henry IV
in one post. Partly that's because I'm a week late writing about them, and partly it's that I'm doing so via bad hotel wifi in Ecuador. So we'll see what we've got.
The Plays
As noted, we pick up the history from the end of
Richard II
, where Henry Bollingbrook deposes Richard and becomes the fourth King Henry (Jeffrey King). We now pick up with a lot of dissent in the kingdom. Many of those who supported and assisted Henry in his return, notably the Duke of Northumberland and his daughter (normally a son, but OSF cast a woman in the role, so changed all the pronouns and such) Henry Percy (Alejandra Escalante), known as "Hotspur." Hotspur is a hot-headed hotshot who feels quite put out about Henry and his behavior. And there is a particular rivalry with Henry's dissolute eldest son, Hal (Daniel Jose Molina), who spends most of his time hanging around with the clownish knight Sir Jack Falstaff (normally C. Valmont Thomas, but we saw his understudy, Tyrone Wilson, who is normally Northumberland--got all that?) and a band of, let's say, underachievers.
When push comes to shove and Northumberland and Hotspur join forces with the Scots and some Welsh, we essentially have a little civil war in which Hal proves himself to be quite worthy and Hotspur quite dead. (Sorry...I don't worry about spoilers in a history play!) That's the end of part 1.
Part 2 picks up a bit later, with Henry unwell, and still quite a bit of unrest. Hal is backsliding a bit on his promises of better behavior. Falstaff is skimming funds while supposedly helping raise an army. Stuff gets real. Eventually Henry dies, and Hal is crowned the fifth King Henry, but disavows Falstaff and his cronies.
The Productions
Two things to note: First, we saw the understudy play the major role of Falstaff. I thought he was excellent, and fit into the play very well. But I can't say how it works when the regular Falstaff is present (although C. Valmont Thomas is an excellent, experienced OSF regular company member, so I assume he's terrific). So if you go see these plays, they will be different, probably.
Second, Hotspur and a number of other nominally male roles were cast as women this season. Some people find this distasteful, and it does mess with the language a little, as Ashland changes pronouns and such. But I thought it worked really well, in part because it makes it so much easier to keep track of who is who in a rather large and shifting cast of characters.
But there is a lot to like in these productions. First, there is Daniel Jose Molina. We saw him first a number of years ago as Romeo, and he was tremendous. He has an uncanny ability to speak Shakespearean language and make it sound extremely natural. Also, it helps that he is young enough to be a convincing Prince Hal. And the excellent Alejandra Escalante (who was Juliet opposite his Romeo) makes a terrific foil as Hotspur, again young and impulsive, very convincingly so.
Similarly, Jeffrey King cuts an impressive figure as Henry. He's a physically imposing actor, and with the play being staged in the tiny Thomas theater with seating on all sides, you get right up there and feel the impact he has. Similarly, Falstaff's clowning is wonderful from up close. The last time I saw this produced at Ashland, it was in the Elizabethan theater, so everything had to be bigger. Very different portrayal here, much more nuanced.
Bottom Line
It's just riveting. The plays run close to three hours each, but it's never dull. The action is crisp, the scene changes are smooth, and the entire acting cast is effective. Some people might not care for the relatively contemporary styling of the designs--it looks and feels like a late-20th century scenario, but it works for me. The roles are pretty timeless (and timely).
I strongly urge people to go see these productions. The quality is terrific, and will be a great basis for next season's better-known play,
Henry V
.